Anna Magwaba: Elegant has truly been my lifeline
At Elegant Fuel we are passionate about empowering people on their life's journey. This includes empowering the motorists who travel on South Africa's roads, and empowering our franchise owners, our fuel suppliers and the many individuals whose Elegant Journeys align with our own journey into the future.
Anna Magwaba owes her life to Elegant Fuel – in more ways than one.
When she was critically ill in 2011, Elegant founder Ockie Strydom rushed Anna, who was on the brink of death, to hospital. More recently he came to her financial rescue, by deferring fuel payment until an overdue government subsidy was paid.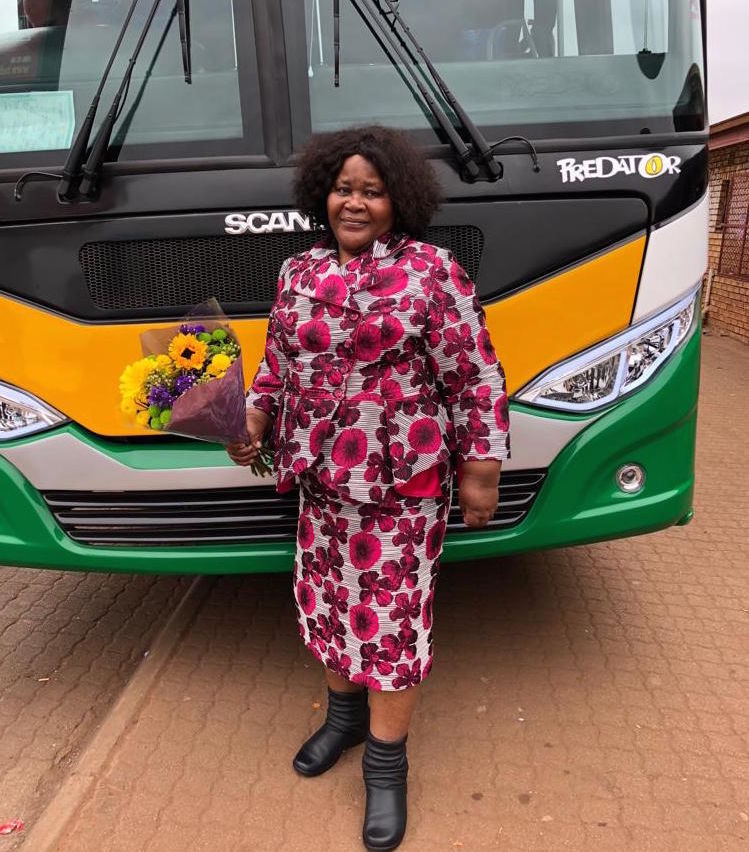 (Image: Anna Magwaba)
"I believe in my heart that Ockie helped to save my life," says Magwaba, who has been an Elegant Fuel client since the company launched more than a decade ago.
Saving a customer's life has to be the ultimate example of empowerment through good customer relationship management, a core business value that Elegant is proud of.
As the owner of Anna Magwaba Buses, Magwaba is a valued client of Elegant's who operates a fleet of 58 buses and services 3 600 commuters daily.
Magwaba started her bus company in 1982 with one bus, servicing the immediate vicinity of Thohoyandou in Limpopo, where she lives. Gradually she added to her fleet, growing it into an efficient and valued transport provider in the region.
"I mainly provide a commuter service in and around the Vhembe district of Limpopo, taking people to and from work. My business serves all the small villages and routes in the Nzhelele valley, Dzimauli, Vleifontein, Masisi, Folovhodwe and Louis Trichardt (Makhado)," says Magwaba.
In addition to meeting commuter transport needs, Magwaba saw an opportunity to open a bus tour operation serviced by seven 70-seater buses. She offers tours for schools, church groups and large wedding parties travelling to Polokwane's outlying areas, and as far afield as Namibia, Zimbabwe, Botswana and Mozambique.
"My journey with Elegant Fuel started when the company launched 12 years ago. I was their first customer in the Vhembe district and over the years I have come to know Ockie well. Little did I know that he would one day save my life!" says Magwaba.
Two years into their business relationship, Strydom paid one of his regular visits to Magwaba's bus depot and found her seriously ill. A local doctor had diagnosed high blood pressure and prescribed medication that had drained her body of salt. Strydom immediately took Magwaba to a doctor in Pretoria, who referred her to the Little Company of Mary Hospital, where a medical assessment revealed that she was on the verge of dying.
A regime of "horrible big salt pills" saw her slowly regain health. Elegant took care of costs and guided Magwaba in setting up medical aid coverage.
Client service didn't end there. When Magwaba later experienced problems with her knees, Strydom once again came to the fore and ensured that two knee replacement surgeries got her back on her feet.
"My blood-pressure problems were all lifestyle-related, as my family members are all fit and healthy – my mother lived to 103. I now do gym, walk every second day and avoid too much fat because I know what a good diet is," says Magwaba.
"I feel so much better. My body has healed and I no longer have to take tablets for BP. I also have two good knees so I can kneel down to pray in church with everyone else."
The financial help from Elegant came in the wake of a government subsidy delay. When this happens, Elegant continues to deliver diesel to Magwaba's bus depot. "Ockie makes sure that my tanks never run dry," she says.
Even when Magwaba's mother, Johanna, died at age 103, Strydom once again stepped up by unexpectedly providing a cow for the funeral celebrations. "He knew my mother, and honoured her and our tradition by bringing the cow. I was very grateful for that kindness too," says Magwaba.
As a widow, mother of six, grandmother of 14 and great-grandmother of one, Magwaba seldom has time to herself. When she does, relaxation includes playing games on her phone and listening to the radio.
"But first comes the walking. I have to keep fit now that I am 65," she says with a hearty laugh.