Hollard Highway Hero Stephen Meje – who delivers our fuel – gets his big reveal
Elegant Fuel moves hundreds of millions of litres of fuel annually, and it's critical that this is done safely and on time. So when one of our truck drivers is recognised as the best in South Africa, it's a really big deal for us.
Stephen Meje, who drives tankers for our partner company Faith Wheels, was late last year named the Hollard Highway Hero for 2018, having fended off 1 600 other truck drivers to clinch this prestigious title.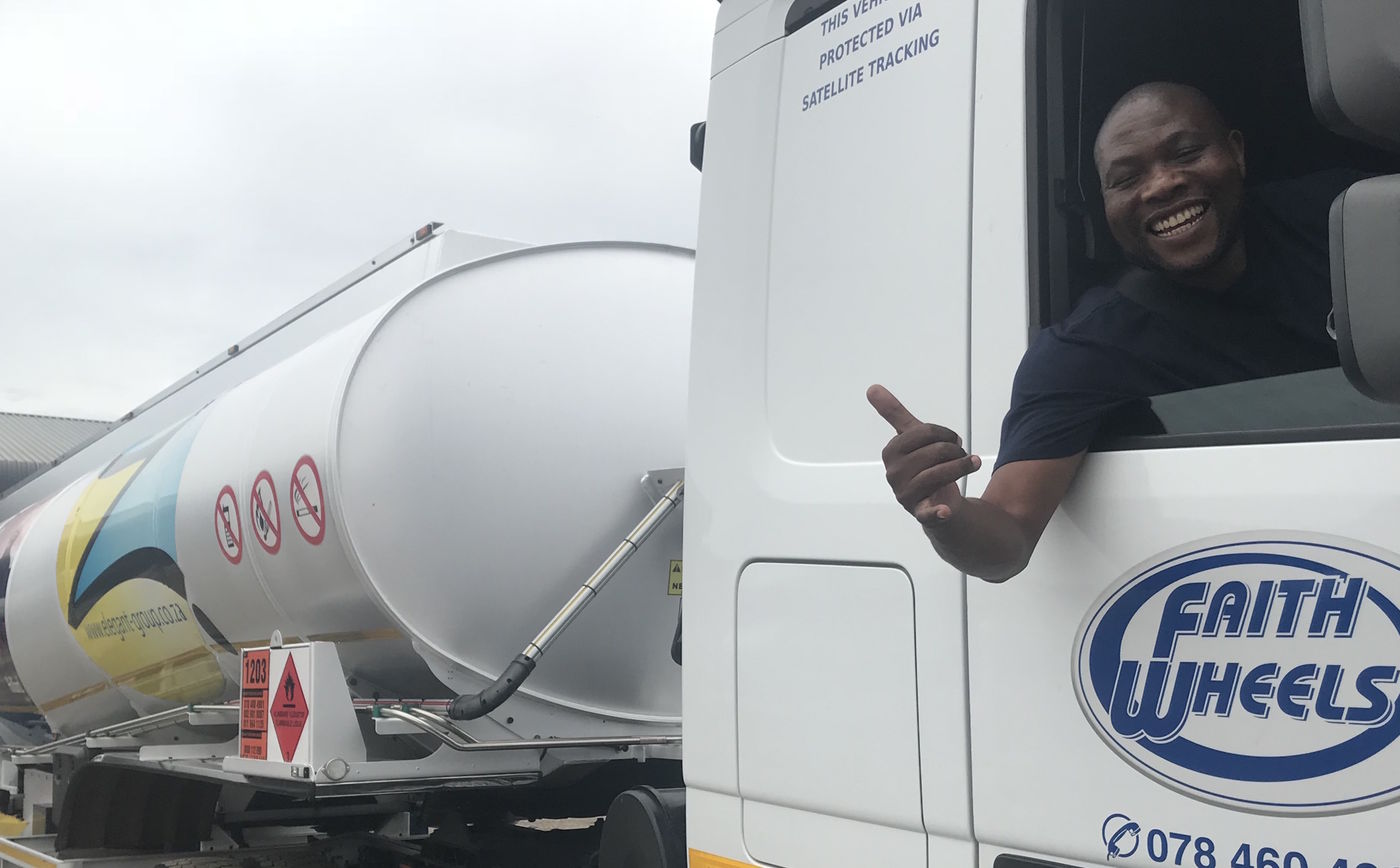 Hollard Highway Heroes is an annual competition run by Hollard Trucking, which has as its aim to promote better truck driving. Drivers are monitored using telematics and must prove their mettle around parameters such as speed, harsh braking and fatigue driving. Competition is fierce, and mistakes cost the participants dearly.
Elegant Group director Ryno Strydom says Elegant shares Meje and Faith Wheels' Highway Heroes win, which illustrates the value of empowering people.
"We always put our people first, including the communities in which we operate, students and schoolchildren, our customers, our own staff and those of our partners – including the drivers of our trucks.
"And what we get in return is quality, as demonstrated by Stephen Meje; his recognition as Hollard Highway Hero for 2018 is a great achievement, and a big empowerment win for us," says Strydom.
Last week we joined Hollard and driver training company MasterDrive at Faith Wheels' Pretoria yard, where we got to witness one of the best parts of Hollard Highway Heroes: when the winner's truck is branded with his face and Highway Hero status, and revealed to him.
Meje was led outside to his truck, blindfolded. The moment it was taken off he threw his head back and, beaming, clapped his hands with joy, as everyone applauded.
"The truck looks so beautiful!" he exclaimed, when he was asked what he thought of its new livery.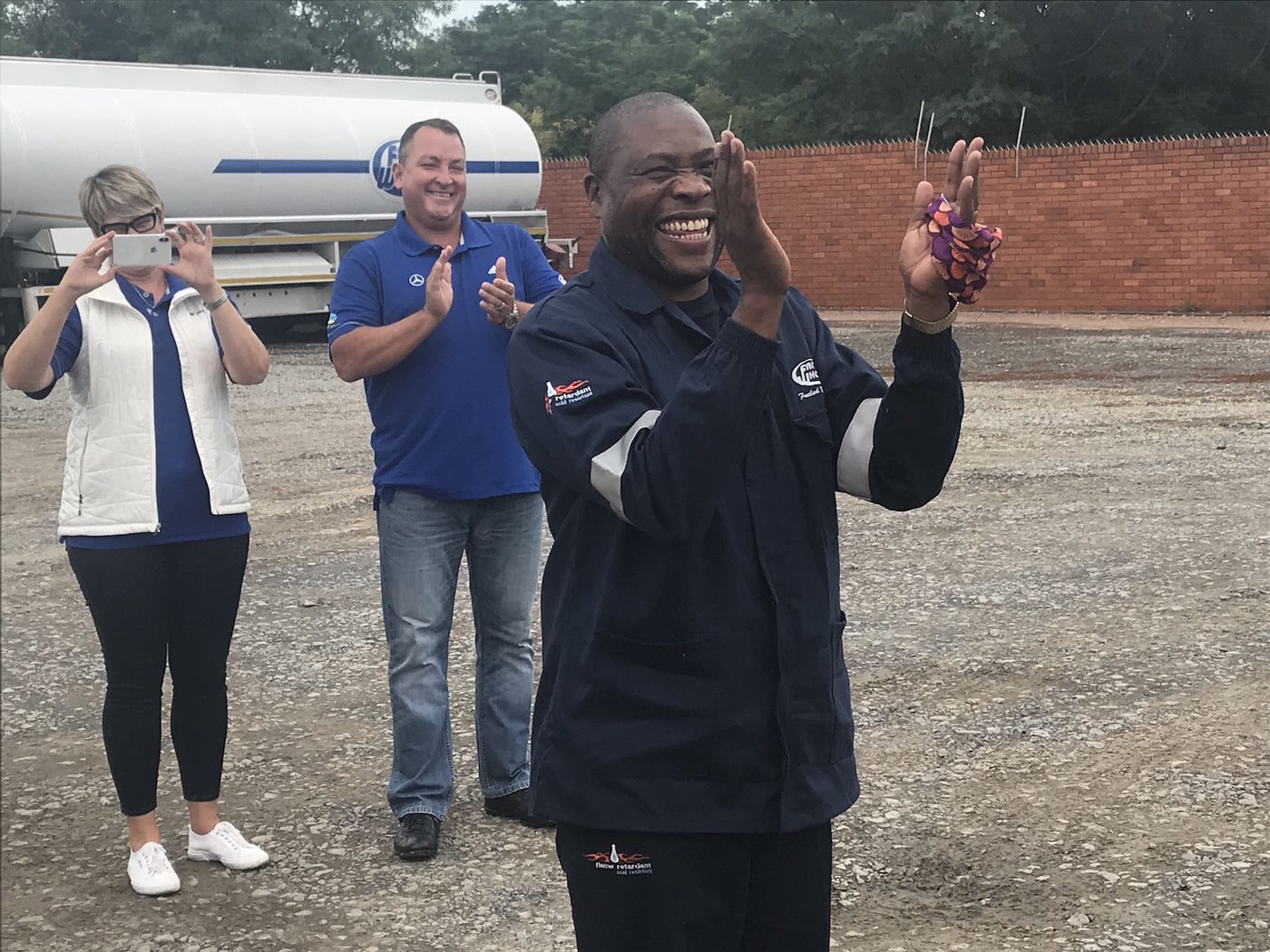 Mark Fourie, director of Faith Wheels, was equally happy with the truck's branding, saying that it not only trumpets Meje's success, but benefits both Faith Wheels and Elegant Fuel as well.
"For branding and awareness, it's excellent for the Faith Wheels and Elegant Fuel brands. Everyone will see it."
Fourie lauded Meje as a highly skilled driver "who really embraced Hollard Highway Heroes and was motivated to do well".
"His achievement has made all of our drivers more attentive about road safety, creating a win-win situation for both of our companies, our drivers and the public. Since March 2018 we've transported 370-million litres of fuel over 7.5-million kilometres without fatalities," said Fourie.
Safety is also a priority for MasterDrive, Hollard Trucking's preferred supplier for truck driver training. Said MasterDrive managing director Eugene Herbert: "MasterDrive appreciates any opportunity to make our roads safer. We applaud Hollard on this initiative, and look forward to working with them in the future."
Meje said that the R100 000 prize he won at the end of last year has meant great things for him and his family.
"I've got a child at university, and I put some money towards her education. And I did renovations to my house," he explained.
It was wonderful to witness Meje's reaction to the truck reveal, said Hollard Highway Heroes competition manager Elka du Piesanie.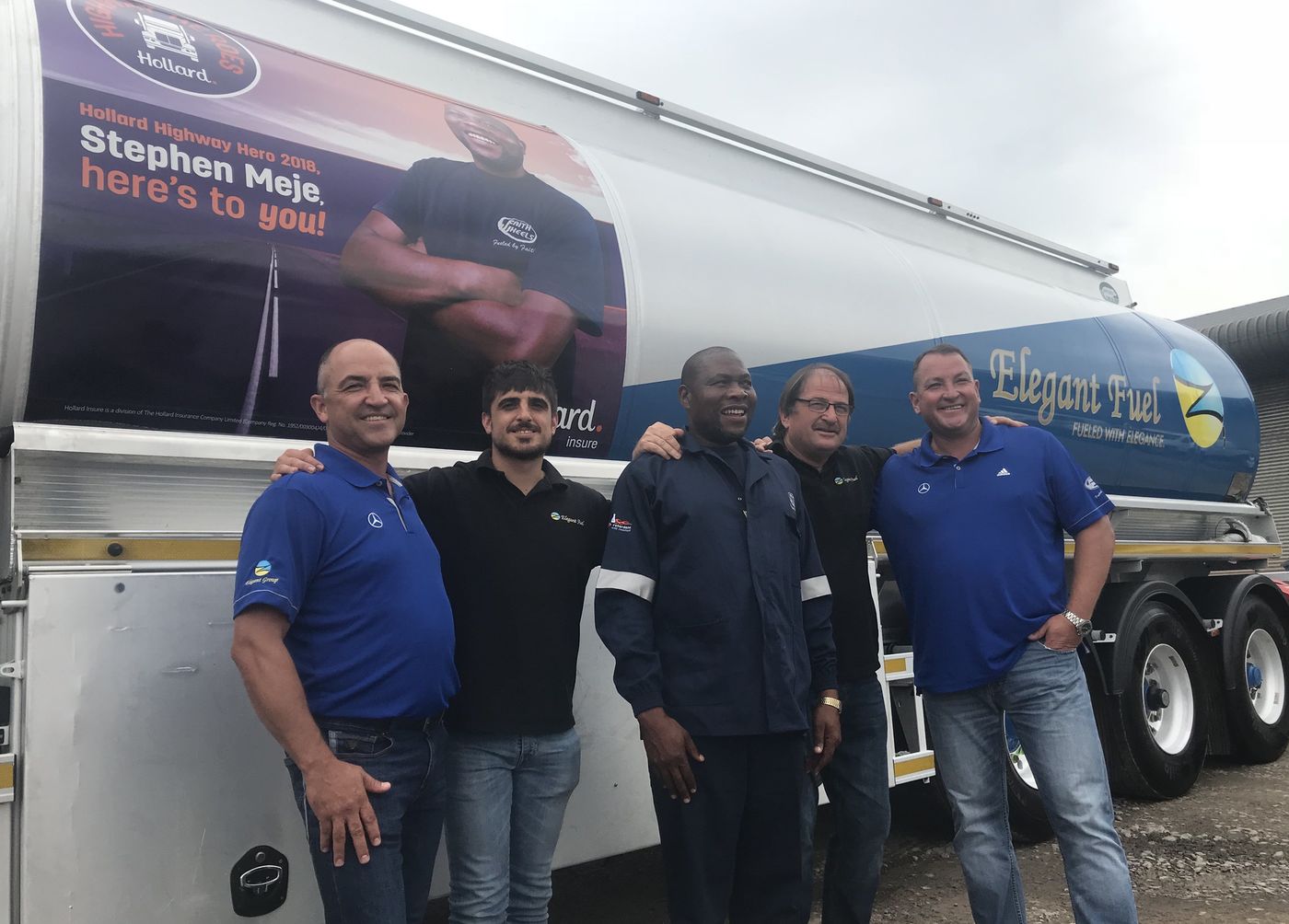 "To see Stephen's great delight at how we've branded his truck was a reminder of just how meaningful Highway Heroes is to the drivers who participate in it," she said.
"Which makes the prospect of the 2019 Highway Heroes that much more exciting. We've got great plans for this year's competition, which will be revealed soon."
Irrespective of what this year's competition may bring, what it takes to win won't change at all. Asked for some tips. Meje was clear.
"Always plan your route – and what time you're leaving, and when you expect to arrive [at your destination]. Don't drive on the barrier line, and always respect the laws of the road. And be patient."