Ramatsilela Mashudu: Kutama cashier and breadwinner
August marks Women's Month in South Africa, a month during which we reflect on the amazing and incredible women who contribute to the stability and success of our country. Whether it's heading a company in the corporate workplace, starting a career, child-minding in a village or feeding and raising children, Elegant Fuel salutes each and every one of you. This month we share the stories of just five of the women who have been empowered by Elegant and who, in turn, help to make our business a successful one.
When the petrol station where she was formerly employed underwent a rebrand to become an Elegant Fuel outlet, Ramatsilela Mashudu leapt at the opportunity to improve herself.
"I had been working as a petrol attendant for about two years before Maphaha Motors in Louis Trichardt (Makhado) became Elegant Fuel Kutama. When the change took place I applied for promotion and, thanks to my experience, I got the job of cashier," says Mashudu.
"Sometimes customers present the wrong money, so I need to communicate with that person and with the attendant to make sure they pay the correct amount. I need to be very accurate and careful with the money. My boss is very strict about that! At the end of the day, I balance all money against fuel sold, which includes unleaded 93, unleaded 95 and 50ppm diesel," says Mashudu.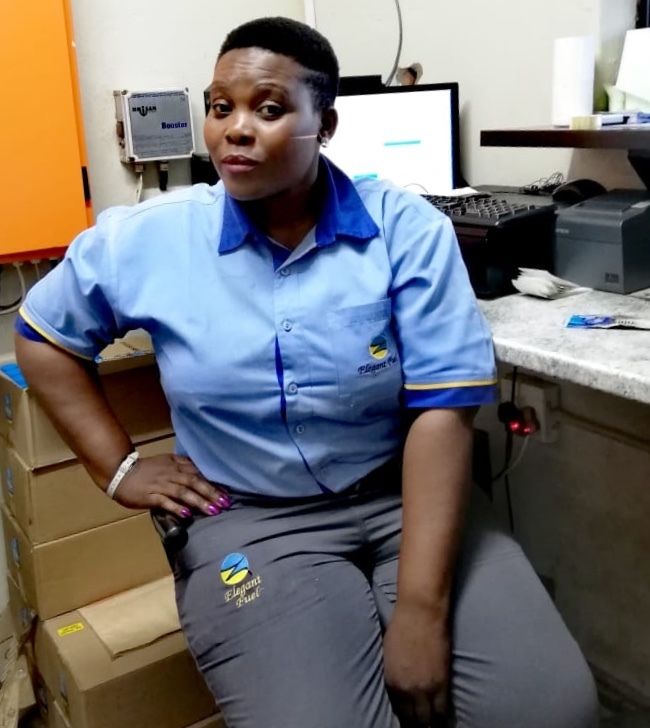 (Image: Ramatsilela Mashudu)
"I love everything about my job. Since I'm a perfectionist at heart, I get very angry with myself if the money doesn't balance. I need everything to be in order when I sign off at 6pm," says Mashudu.
Asked how Elegant Fuel lives out its claim of being a company that empowers people, Mashudu says Elegant has provided a number of jobs in the community because the company is doing well and expanding.
She says everyone at Kutama treats their colleagues with respect and kindness. She believes this approach fosters better customer service, which is as important to Elegant staff as it is to their customers.
"The customers are actually our employers. They give us the money. Without them, we would not be here in our jobs!" she adds.
Reflecting on what it was like to work as a petrol attendant, Mashudu concedes that her heart wasn't really in the job, but she needed the money. She far prefers cashier work and hopes the position will open up new opportunities as time goes by. She readily admits that her true passion lies in studying to become a chef and owning her own restaurant one day.
Since Elegant is also in the business of making dreams come true by donating millions in bursaries, Mashudu might see her vision realised sooner than she thinks!
Mashudu lives in Maebani, near Louis Trichardt (Makhado), where she is a breadwinner for her mother, her own two children and her late sister's two children. Her daily motivation to get up early to go to work is the people for whom she has to put food on the table every month.
"I think of them all every day, which motivates me to get to work and do a good job. I also urge the children to go to school every day, to work hard to achieve better results," she says.
"I'm always thankful to my employer for believing in me."