Tshepo Dhlamini: ensuring fuel supplies and mentoring new franchisees
At Elegant Fuel we are passionate about empowering people on their life's journey. This includes empowering the motorists who travel on South Africa's roads, and empowering our franchise owners, our fuel suppliers and the many individuals whose Elegant Journeys align with our own journey into the future.
Tshepo Dhlamini is the purchasing manager at Elegant Fuel, a role that entails a whole lot more than the designation suggests.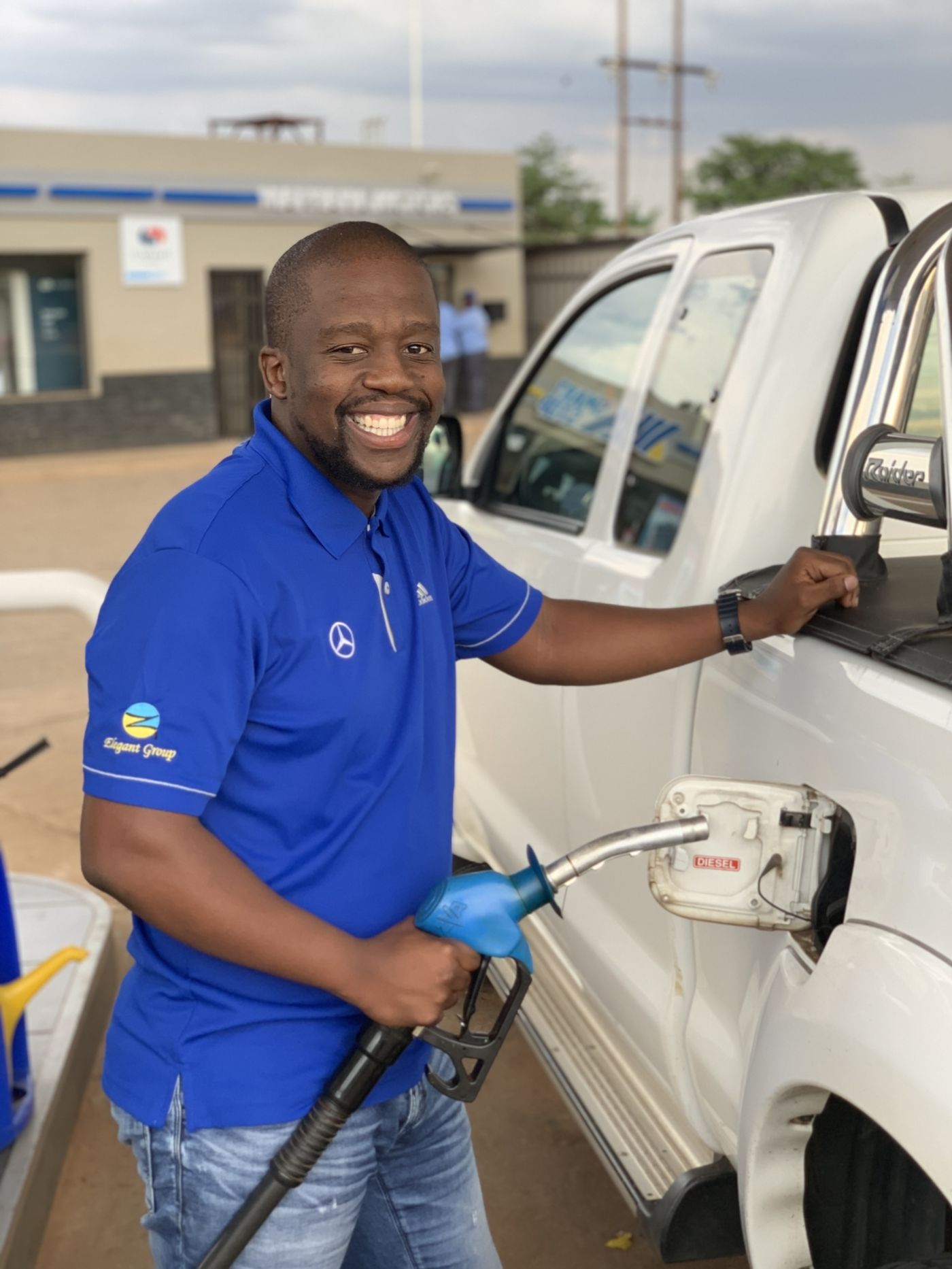 (Image: Tshepo Dhlamini)
Born in Kroonstad, Dhlamini attended high school in Potchefstroom before going to the University of Pretoria to complete his BCom Accounting degree. He later added an honours degree in accounting through the University of South Africa.
Dhlamini's Elegant Journey began in June 2014 after he was co-opted by the company's marketing director. The two had met while Dhlamini was completing his articles at PricewaterhouseCoopers (PwC).
"We had kept in touch and, when Elegant set up its LPG [liquefied petroleum gas] plant in 2014, the company was looking for someone with a financial and accounting background and approached me to manage that side of the business," he says.
Dhlamini's initial role soon saw him "catapulted into running operations" for the fuel giant.
On a daily basis from Elegant's head office in Louis Trichardt, he sources the petrol and diesel the operations department needs. His job is vital to making sure Elegant can deliver on its promise to deliver anywhere and everywhere.
Working closely with the operations and finance teams and an extensive customer base, Dhlamini liaises between the refineries that produce the fuel and the retailers that sell it.
"I learned how to manage staff, as I had 14 people reporting to me. I learned the delivery routes, different areas where we have outlets, how the simplest of things can upset customers, how to ensure that funds are always available to pay salaries … it was a big growth spurt for me," he says. That was in 2017 and before long he was running Elegant Fuel's entire LPG division.
After Elegant subcontracted its LPG operations, Dhlamini was brought into the fuel purchasing side of the business. When Dream Sites was registered in 2017, he began assisting on the business development side, too.
Dream Sites is a company that was contracted by Elegant to assist in the development of new petrol stations and the rebranding of old ones.
"We saw a gap in the market to support and see new franchisees through the process of setting up their franchises. Many people are not familiar with the process, so we stepped in to address that need," says Dhlamini.
"This part of my job involves upholding Elegant's image, dealing with any issues that may require interaction with the Department of Energy, providing for increased fuel capacity when necessary, and dealing with any fuel-related issues.
"Essentially, it covers petrol-station conversions and set-ups, which we facilitate from scratch. It starts with physically visiting and evaluating potential sites and, once construction begins, seeing the process through to completion. I work closely with our marketing team on these projects." Dhlamini is currently a majority shareholder and CEO of Dream Sites.
With his busy portfolio, Dhlamini says there's never a dull moment at work.
A typical day might see challenges such as no internet service, resulting in supplier portals being inaccessible, which means placing all orders manually; 20 or more calls a day from people wanting to start franchises – "I take the time to explain the entire process to each one, no matter how busy I am or how bad my day has been"; fielding calls from attendants at petrol stations looking for advice; and driving to different destinations – his physical Elegant journey.
"I always incorporate training into my everyday work. Whoever it is that I'm working with, I like them to think the way I do, so I train supervisors to manage different scenarios so they grow in confidence. One phrase I use constantly is: 'Don't come to me with a problem. Come to me with a solution. Find a solution and then all you need is my final approval'," he says.
Dhlamini spends long hours on the road, often with no network coverage, meaning he cannot be contacted. He believes the time he spends teaching staff to find remedies themselves pays dividends and helps to set others on Elegant journeys of their own.
He is growing a culture of problem-solving and reporting on how an issue was resolved. In the process, he is empowering others to develop management skills of their own.
He regularly draws on his financial background and more than two years of articleship at PwC.
"When you work in financials, numbers become second nature," says Dhlamini. "It's helpful when you're negotiating a contract, since your mind is already calculating overheads, profit, discounts and interest, and you can immediately tell whether something is a bad buy."
Dhlamini says the vital new skill he has learned on his journey at Elegant is time management, as he cannot manage everything at once.
"I think of it as juggling glass balls; if one has to drop, I must make sure it's not an important one."
He carries huge responsibility and his work incorporates many different elements. However, Dhlamini says the single thing that makes his work most enjoyable is his daily interaction with people. "We work in stressful times, but through teamwork we're able to overcome challenging issues. Seeing how the work we do changes the lives of other people is its own reward."
The operations team members work closely with each other, but they also interact daily with colleagues from the invoicing and finance departments. "There's a family feel to our business; everyone is always interested in the well-being of others," says Dhlamini.
"We also have a meal cooked for us every day, so we eat together. There's always a sense of mutual support and it's great to see the growth of younger team members as they adapt to the leadership style and tone of the Elegant business."
Dhlamini's philosophy is that you're never too old to learn. "As you go through life, try to assimilate as much as possible from people in various sectors who have been there and done it all before you.
"Always believe in yourself and let no one tell you it's impossible. Dream big – the bigger the dream, the better the reward. If you have the drive to achieve, opportunities present themselves when you least expect it. And always give 100% – or rather don't do anything at all."
Dhlamini is married to Aluwani, who runs her own mobile ablution hire company and is studying for her honours degree in finance.