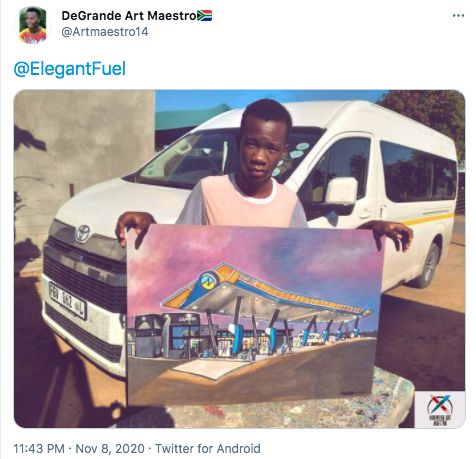 Social media can be a powerful tool for good and can amplify messages and reach people physically far removed from your life and surroundings. One way to get the attention of an organisation with a social media following larger than yours is by tagging it in your posts.
This is how we came across the artwork of Maphoso George Mokwena, a 23-year-old artist from Lephalale in Limpopo. In November 2020, George posted a picture on his Twitter account – of a beautiful painting he'd done of Elegant Fuel Lephalale – and tagged us. It caught our eye, and that one tagged post led to a massive opportunity for the young virtuoso.
George considers himself a full-time artist and is known in his community for his paintings. After failing to qualify for a Bachelor of Arts in 2017, he started his creative journey and began to paint full-time. He mostly loves to paint landscapes and feels freedom in choosing the colours that make images his own.
At Elegant Fuel, we work to uplift surrounding communities – our stations create sustainable jobs in these communities, empowering people to positively influence their own circumstances. And this was the case with George.
We were so impressed by his painting that we decided to make contact, and offered to buy it – and it has been framed and is on display at our Elegant Fuel Lephalale station. We discovered that George is from a disadvantaged background and had been asking for art supplies through his online community, and we wanted to help.
Elegant Fuel director, Ryno Strydom, decided on assisting George in the long term, by giving him the chance to empower himself through higher education – and so we set about finding a suitable art school for him.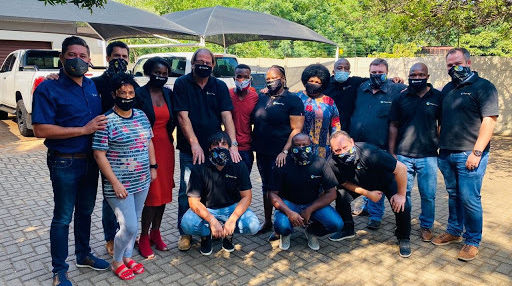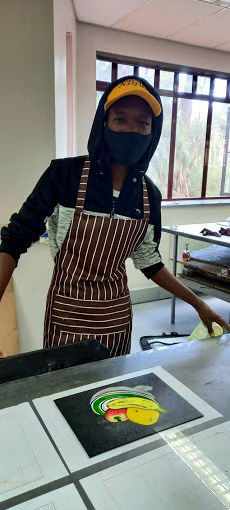 After discussions with George, we settled on the Artist Proof Studio in Johannesburg, which "is founded on a sense of shared humanity whereby people of talent and passion can reach for excellence in art-making to achieve self-sustainability". This is a similar philosophy to that of the Elegant Group, which believes in growing the local economy and uplifting local individuals and communities while it does so.
Following an interview and some practical exercises, George's application to the art school was accepted, and he enrolled for a three-year course that includes drawing, critical studies, visual literacy and printmaking. We believe this course will unleash his potential and offer him great opportunities for career development.
Besides paying his tuition and art-supply costs for the next three years, we are also covering his accommodation in Johannesburg and providing him with a stipend for living expenses.
Being a proudly South African company with a genuine, heartfelt commitment to making the country a better place for all, Elegant Fuel feels privileged to be in a position to support George. We can't wait to see his progress and where his journey takes him!
#ElegantEmpowers